U.S. Carrier to Call Vietnamese Port for First Time in Decades
26.01.2018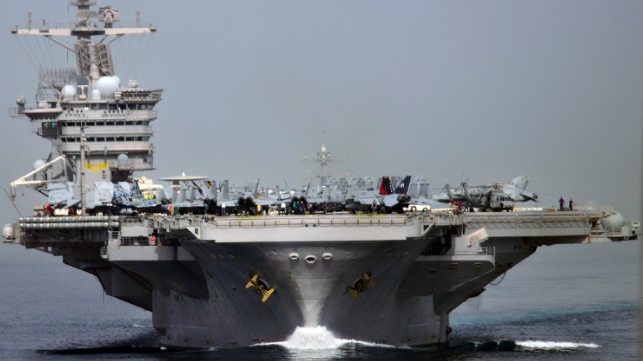 On Thursday, American and Vietnamese officials announced that the carrier USS Carl Vinson will likely call at the port of Da Nang in March. She would be the first American carrier to arrive in a Vietnamese port since the end of the Vietnam War.
The visit would be the culmination of years of growing ties between the U.S. and Vietnamese militaries, and would represent the largest U.S. military presence in Vietnam since the fall of Saigon. China's increasing military presence in the South China Sea has been a cause of concern for both Vietnam and the United States, and the budding military alliance is seen as a way to offset the growth of Chinese power.
The thaw has been led in part by Vietnam War veteran Sen. John McCain, a former prisoner of war who suffered lasting injuries during his captivity in Hanoi. In 2016, despite his history with the Vietnamese military, McCain reached out to head of the Communist Party of Vietnam, seeking to "strengthen our security relationship" and pursue a "favorable balance of power in the Asia-Pacific region."
Due in part to his efforts, the U.S. lifted its ban on lethal military equipment sales to Vietnam later that year. U.S. Navy units have also undertaken a series of military exercises with their Vietnamese counterparts, including a visit by the littoral combat ship USS Coronado last year. However, Vietnam has not yet joined the flagship U.S. Navy exercise, RIMPAC, which involves joint operations and training exchanges with the navies of 26 nations.
The USS Carl Vinson was ordered in April 1974, after the cessation of American involvement in combat in Vietnam, and she was laid down in October 1975. Vinson participated in Operation Earnest Will in 1988, protecting U.S.-flagged tankers in the Persian Gulf. Her air wing also supported Operation Southern Watch over Iraq, and she launched the first strikes of Operation Enduring Freedom in 2001. In 2011, the Vinson received and disposed of the body of Osama bin Laden, the mastermind of the September 11 attacks.
Vinson departed her home port of San Diego for a deployment to the Pacific on January 5.
www.maritime-executive.com