Ships' Scrapping Activity Picks Up As More Ships Were Sold for Demolition
01.03.2019
Reports have started to emerge that demand is coming back in the ships' recycling markets, which could alert more ship owners towards offloading their older units. According to shipbroker Clarkson Platou Hellas' latest weekly report, "it would appear that the large amount of tonnage acquired by cash buyers towards the end of last year are finally being offloaded into the sub-continent recycling yards which could be the reason preventing the market increasing and gaining any real momentum. Away from these local sales, there still remains a clear lack of new tonnage being proposed but we may start to see this situation change in the coming weeks ahead should Owners observe a slight increase in market rates which would prove significant enough on the back of declining freight rates, particularly in the Capesize sector".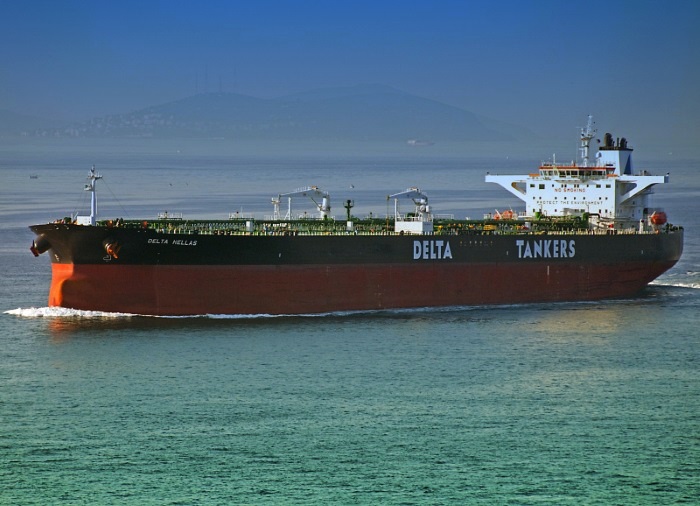 Clarkson Platou Hellas added that "with the continuing Letter of Credit issues in Bangladesh resurfacing, these recyclers have had to absorb a large quantity of tonnage for some time and the risk therefore is whether these Letter of Credit issues provide limited end users for the cash buyers to resell any vessel to. It will be interesting to see, although the hope is that price levels from India may start to creep back towards those of their counterparts in Chittagong to once again provide some stiff competition and hence keep the market stable. Following on from recent reports outlaying the news that two yards in Aliaga, Turkey were approved by the EU, it is encouraging to see that the first international vessel to be sold and delivered under the new European Ship Recycling Regulation has come to fruition. The vessel is the Norwegian owned/Norwegian flagged 'Star Gran' which arrived at the Turkish 'LEYAL Ship Recycling Group' facilities this week under the framework of the EU SRR. This is a major milestone, both for the cash buyers, Dido Shipping, and Leyal, as well as the EU SRR, since less than 2 months from the entry into force of the EU SRR, the first vessel has been delivered smoothly under its provisions".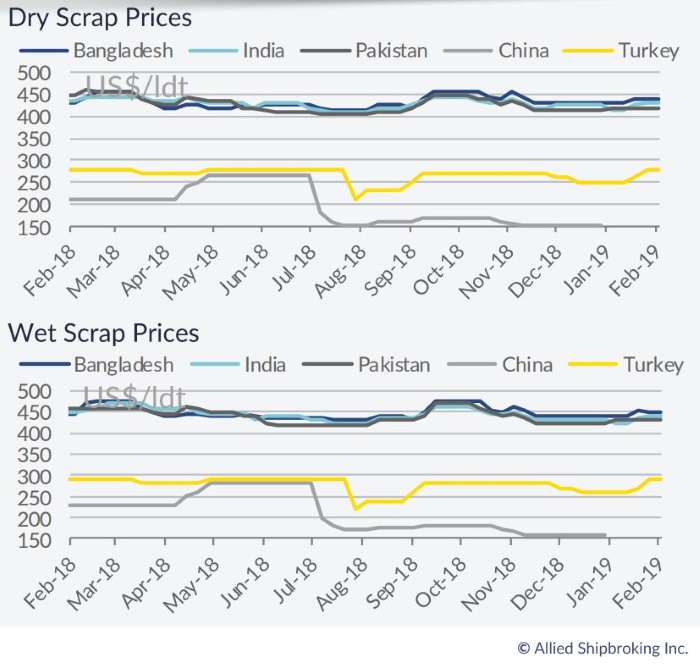 Meanwhile, in a separate report, Allied Shipbroking added that "an uptick was witnessed in terms of ship recycling activity this past week, with the number of units being sent to be beached increasing compared to the last couple of weeks. The recent freight market slump in the dry bulk segment has triggered some increased selling appetite for owners of more vintage tonnage. On the tankers' side, things remained relatively quiet last week, with limited demo candidates circulating the market despite the ample buying interest being seen. Given the recent recovery being seen in the tanker freight market, expectations are for this trend to follow through on to the next couple of weeks. Meanwhile, the Indian Sub-Continent is still managing to hold its price levels relatively firm, with Bangladeshi breakers still leading the way for now. Market fundamentals in the Indian market have shown some signs of improvement, with improving Forex movements and increasing prices for local steel showing room for more competitive prices to be on offer over the next couple of days".
In a separate weekly note, GMS, the world's leading cash buyers of ships for recycling said that "the steady footing that markets have recently found themselves on, continued for another week with Bangladesh once again taking most of the plaudits for another impressive showing and India maintained its strengthened state since last week (despite a marginal drop in local steel plate prices). Pakistan on the other hand, continues to dither in status quo as it remains on the sidelines, uncompetitive against its sub-continent rivals and there seems to be no immediate hope of them returning to the buying (at aggressive numbers) any time soon. Finally, Turkey remains positive and firm with not much change reportedly emanating for its key fundamentals i.e. local steel plate prices and the Turkish Lira. On the sales front, there have been a few more off market fixtures reported this week – particularly a pair of private Capesize bulkers – as the dry market continues to feel the after effects of a largely turbulent period of time. We have now seen over 7 Capes sold and beached since the start of the year and it may well be a busy few months (at least) ahead, particularly as rates on containers, dry bulk units and (now) tankers, all start to struggle in tandem! With the Bangladeshi market continually taking in its share of deliveries and gradually filling up, not only in terms of capacity but also in terms of capable open end Buyers with available L/C & bank limits, the focus of Ship Owners and Cash Buyers will inevitably shift to competing markets, hoping that levels continue to sustain, given that the supply of tonnage is potentially set to increase in the near future", GMS concluded.

Source:hellenicshippingnews.com