Ship Owners Turn to Second Hand Acquisitions
15.02.2019
Ship owners have opted against committing more financial resources towards newbuilding orders, amid the uncertainty surrounding world trade growth prospects and the pressures exerted on the Chinese economy. This has been the overall trend since the start of 2019, except a couple of niche segments, like LNG, where prospects remain dry.
In its latest weekly report, shipbroker Allied Shipbroking said that "few new orders were to be seen this past week, with owners seemingly more restrained as part of the current freight market performance. Expectations for improved earnings within 2019 have not yet materialized in both dry and wet segments, leaving little room for optimism to take hold of the market. In the dry bulk space, only a couple of new contracts came to light. This will likely be the new norm up until we start to see some strong signs of improvement in the freight market. Prices have increased compared to last year, but given the state of things, are now expected to hold at these levels for the near term at least. On the tankers side, there were news last week over the order of 3 VLCCs from Japanese interests, all of them placed at NACKS (China). Here, fundamentals and demand forecasts have created a positive trend for the moment, though given the slight downward correction in freight rates, buying interest may well ease over the coming weeks", said Allied.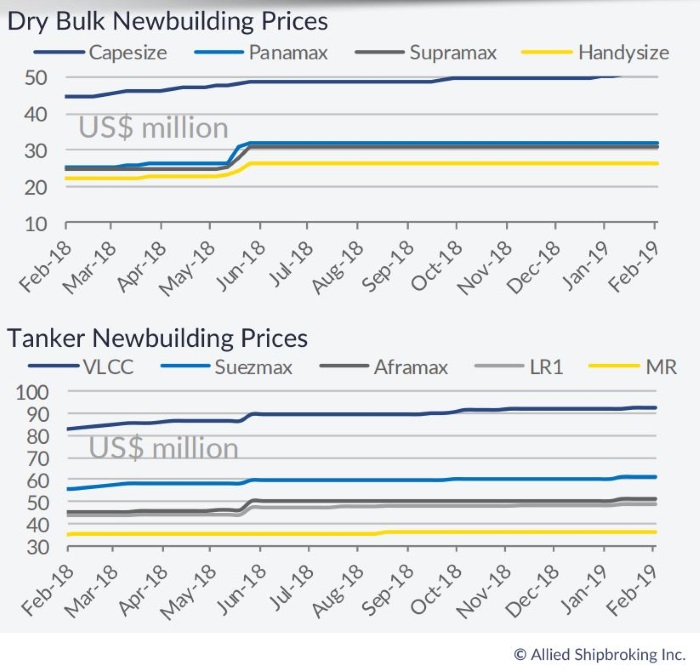 In a separate newbuilding report, Clarkson Platou Hellas added that "with the Lunar New Year holidays in the East, it's been a quiet week in the newbuilding market with just one order to report. Whilst signed before the holidays began, it's come to light that Jinglu Shipyard in China took an order for a 60m LOA passenger/car ferry from domestic owner Changdao Xianglong", said the shipbroker.
Meanwhile, over to the S&P market, things are more robust. According to shipbroker Banchero Costa, "the secondhand market and particularly the Dry Bulk sector were still affected from Chinese New year. There are few representative sales to be reported this week especially on the Tankers' side. Nathalin Thailans were reported on subs on the VLCC "VL Sakura" around 298,000 dwt 2001 built Hitachi at $ 24 mln while Middle Eastern Buyers committed the Suezmax "Eurohope" around 159,000 dwt 1999 built Daewoo for a reported price of $12.85 mln. Pakistan National Shipping Corp, after a lengthy tender process, committed the LR1 sisters around 74,900 dwt, "Abby Road" 2013 built and "Kings Road" 2012 built for $ 60.7 mln enblock, as reported . Ardmore managed to sell the "Ardmore Seamaster" around 45,000 dwt 2004 built Shin Kurushima at the reported price of $9.7 mln to Chinese Buyers", said Banchero Costa.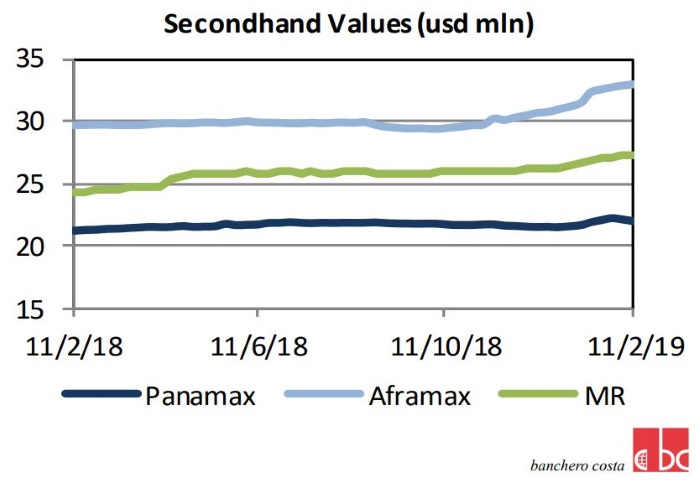 In a separate weekly report, Allied Shipbroking added that "on the dry bulk side, things have been excessively quite these past few days, with SnP market having regressed back to patterns last noted in mid October. Meanwhile, the disappointing levels of earnings being posted now, hasn't left much space for optimism amongst buyers. Notwithstanding this, given that we expect a part recovery to take shape relatively soon, we may well see some renewed interest amongst buyers take shape over the coming weeks. On the tanker side, activity was sustained at relatively fair levels, with buying appetite seemingly ample for the time being. Here, the dominant presence of the MR segment as a share of the total SnP volume concluded was once again the highlight of the week. All-in-all, despite the small downward freight rate correction of late, the positive sentiment continues to hold and acts as a major driver for the secondhand market right now", the shipbroker concluded.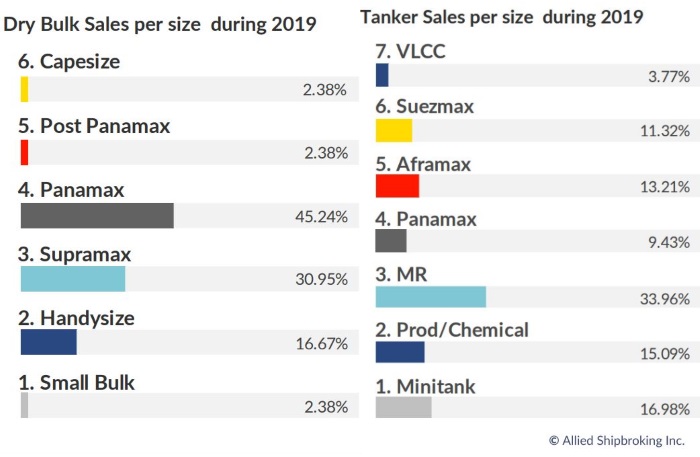 Source: hellenicshippingnews.com