More Scrapping, Fewer Deliveries Bode Well for the Dry Bulk Market in 2021
15.01.2021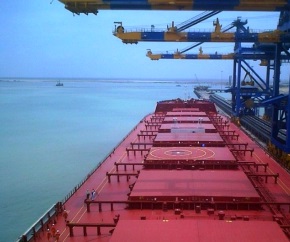 A smaller dry bulk fleet could be on the cards for 2021, should the existing trends and estimates materialize. In its latest weekly analysis, shipbroker Intermodal said that "we expect the rise in scrap prices amid the inflection of steel prices to multi-year highs to incentivize scrapping of vintage units (still more than 5.5% of the dry bulk fleet is above 20 years of age). Thus, demolition rate is likely to accelerate in 2021, despite improved market conditions. Scrap prices in Bangladesh are reported to have spiked by more than $55.0/ldt into the first week of the year, currently standing at the highest level since Q2 2019. While any short term correction given the sudden spike should be considered as normal on the back of increased demo candidates supply, scrap prices are expected to be supported overall in 2021, with China's regulatory reboot for ferrous scrap imports sustaining tight supply in the Asian region".
Intermodal added that "deliveries during 2021 based of the current orderbook are expected to decline materially compared to 2020. Given that approx. 70% of the current orderbook is scheduled to be delivered in 2021 leading to a further decline is shipyards forward coverage, we should expect slippage to increase close to 20%-25%. On this note, new orders are also likely to increase slightly, driven by relatively low prices and higher earnings potential ahead, but orderbook should not inflate significantly from current record low levels of 6.2%. Thus, net fleet growth in 2021 and beyond is expected to decelerate to multi year lows and create favourable conditions for fleet utilization and rates to increase", the shipbroker said.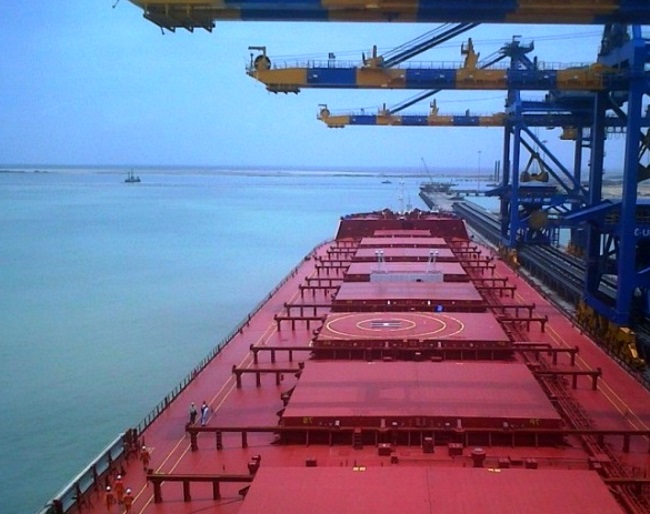 In its 2020 review of the dry bulk market, Intermodal said that in the demolition market, "despite the lockdown in major scrapyard destinations during the 1H2020 and freight improving during the 2H2020, scrapping of dry bulk vessels increased to a 4 year high in 2020. Over 140 bulkers were sold for scrap marking a 76.0% rise y-o-y in dwt terms. Demolition activity was largely driven by Capesize/VLOCs, which exhibited the highest freight volatility amongst vessel sizes with Capesize 5TC during Q12020 reaching levels last seen during the 2016 market trough. The first and last quarter of the year accounted for more than 50% of the annual demo deals, while demo activity accelerated towards the end of the year amid the sharp rise in scrap prices. Bangladesh was the top demo destination with over 60 units being bought in 2020. Pakistan increased its market share and ended up the 2nd largest cash buyer by offering the highest scrap prices in the Indian sub-continent for most of the 4th quarter".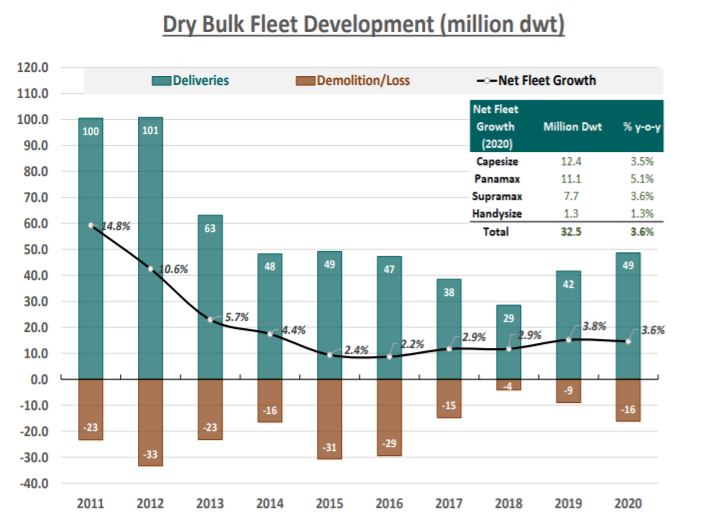 In terms of deliveries, "despite delivery delays from China's shipyards during February, slippage rates normalized thereafter with about 87% of the scheduled deliveries materializing during 2020. Over 480 bulkers were delivered, marking a 19% y-o-y rise in dwt terms. More than 50% of the deliveries were in the Capesize/VLOCs and Kamsarmax/Post-Panamax segment. The latter saw the highest net fleet growth y-o-y amongst sizes (i.e. +5.1%) on the back of high deliveries coupled with limited demolition. Supramax/Ultramax units followed with +3.6% net growth y-o-y, with over 90% of the deliveries being Ultramax. Capesize grew by +3.5% y-o-y with Newcastlemax and Guaibamax dominating the deliveries in the segment. Lastly, Handysize units recorded the lowest net fleet growth amongst sizes of just 1.3% y-o-y", Intermodal noted.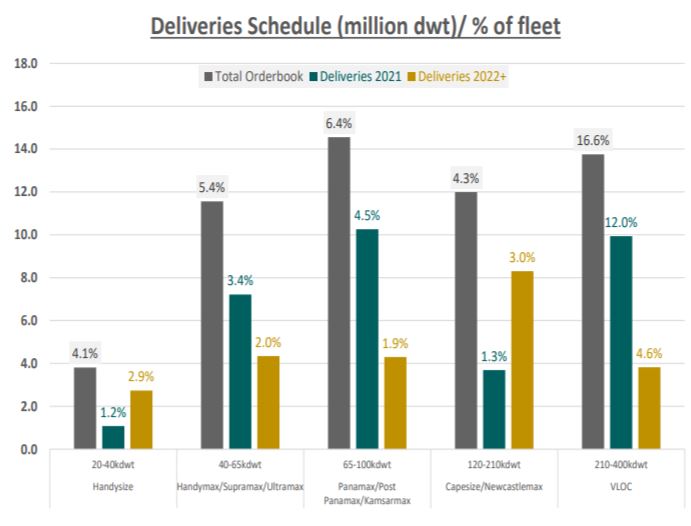 The shipbroker concluded that "overall, dry bulk net supply is estimated to have grown by +3.6% y-o-y, slightly lower than 2019 but still approx. 1.0% higher than the annual average growth rate of the past 5 years. Total Dry Bulk Orderbook declined to 580 vessels (or 55.7 million dwt) in 2020, down from 777 vessels (or 79.6 million dwt) in 2019, with fresh contracting declining by approx. 50% y-o-y. Orderbook as a share of the fleet for dry bulk vessels above 20kdwt declined to 6.2% down from 9.0% the year before, reaching historical low levels. Looking at the individual segments, VLOCs have the highest orderbook, i.e. approx. 16.6% of the VLOC fleet, while standard Capesize have the lowest at just 2.4% of the Capesize fleet. Kamsarmax and Post Panamax orderbook stands at 11.7% of the fleet and Supramax/Ultramax follow with just 5.3% of the fleet", Intermodal concluded.
Source:Hellenic Shipping News