Italian ports to strengthen China's One Belt One Road initiative
19.01.2018
The Belt and Road Initiative was initially proposed by Chinese President Xi Jinping in 2013, in order to build trade and infrastructure networks, which will connect Asia with Europe and Africa through the ancient Silk Road routes.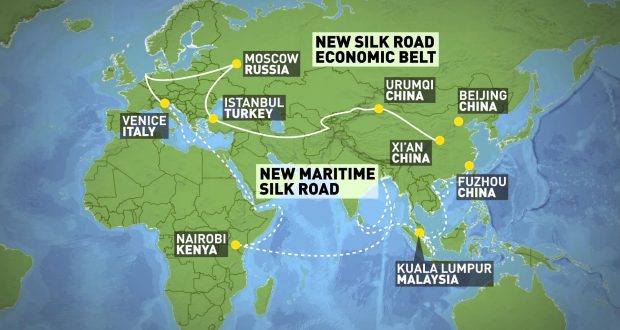 In order to increase knowledge about this initiative, on 24th January the conference "The new silk road for Italy", promoted by RINA, Comune di Genova, Baker McKenzie and Easternational will take place, focusing on the role of Italy in the the Chinese initiative "One Belt One Road".
"One Belt One Road" aims to connect Asia, Europe and Africa through one new silk road. The conference will highlight the Swiss Corridor within the Rhine Alpine Region, which constitutes an important signal of the new European Space of Mobility. It is therefore an important step forward to serve Europe from the Mediterranean Sea through Genoa and Milano.
In fact, the Chinese Foreign Minister wants China and Italy to cooperate and create a closer investment and trade ties through the Initiative. The two countries will collaborate in technological innovation in Internet Plus and other technologies.
In the same spirit, last year, the President of the Italian Republic, Sergio Mattarella, visited China and met with the Chinese President Xi Jinping and Premier Li Keqiang. During the meetings, the two leaders called for more exchanges between the two countries. As a result, several bilateral agreements were signed, including a cooperation between China and France on nuclear energy and on spatial cooperation, sources report.
While the immediate effects of the Belt and Road Initiative will regard the logistical and ports sector, it will, eventually, have "a cascade effect" on other types of businesses, like shipbuilding, construction, and transportation manufacturing. Furthermore, the cooperation between the two countries aims to enhance environmental protection and renewable energy, as well as medical and health.
Italy has a very strategic location, at the intersection of the "Silk Road Economic Belt" and the "21st Century Maritime Economic Belt" (Belt and Road). This helps the mediterranean country benefit from the new, improved infrastructure connectivity and the enhanced economic cooperation in the Eurasia continent, which has largely developed via China's Belt and Road Initiative.
www.safety4sea.com