Hellas: Ship owners With Larger Vessels Prefer to Install Scrubbers Ahead of IMO 2020 Rules
20.02.2019
The debate over the strategy with the best results, when it comes to complying with the 2020 IMO rules for the use of lower sulphur fuels on the existing fleet, is still raging. In a recent press event, the Piraeus office of DNV GL, which also acts as the base of the company's regional headquarters and oversees a number of countries in the area, had some interesting thoughts to share. For example, DNV GL officials noted that at the moment, globally, we are witnessing two separate "camps". On one side are the scrubber "lovers" and on the other the scrubber "haters". Those who have chosen to install scrubbers have advocated the use of them, estimating that the more the merrier, as this will ensure the availability of heavy fuel oil at competitive prices. On the other hand, scrubber "haters" are looking to bring down the cost of low-sulphur fuels and demand will make sure of this.
As it stands, DNV GL has noted a pattern among Greek ship owners. Those of them with larger sized vessels tend to go for the scrubber solution, although there is still a lot of uncertainty and a lot comes down to the strategy, goals and fleet renewal process of each ship owner.
Meanwhile, the classification society has managed to increase its market share and further enhance its presence in the Greek market during 2018, as a result of a number of initiatives which started a couple of years back, placing more focus on direct interaction with Greek ship owners and using more locally-based personnel. Piraeus was also made one of seven global centers for DNV GL activities. In a presentation given by Mr. George Teriakidis, Regional Business Development Manager at DNV GL, among the Greek newbuildings of 2018, 37% of the million gross tonnage, was classed by DNV GL, or 38% in terms of the number of vessels. Among the highlights were an FSRU for Maran Gas, ordered at Daewoo, an FPSO for Energean at YZJ, 11k TEU vessels for Costamare, also at YZJ, and Suezmaxes for ENESEL at Daehan Shipyard. Also, DNV GL enjoyed an additional 1.3 million of tonnage (28 vessels in total) entries from other classes.
This success is attributed to an increased level of customer satisfaction, thanks to the installation of a global network of Greek speaking employees. Among them are 6 engineers in Piraeus and 9 engineers abroad (FiS Surveyors, London KAM) and manning of newbuilding projects of Greek owners. Moreover, an enhanced marketing and business development process took place with select team of experts placed in a variety of areas, crucial to shipowners. All in all, the Piraeus office has been reinforced to better serve the local market and this is yielding results.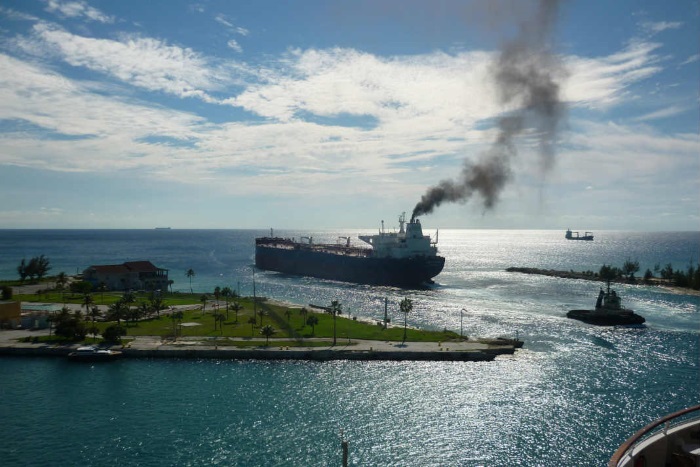 Moving forward, DNV GL expects demand for seaborne transportation to grow by 37% by 2050, which translates to a larger number of ships needed. However, local pollution (Sox, Nox and particles) in large ports around the world, is likely to lead to more localized regulations in terms of environmental rules, which in turn is expected to create more uncertainty for owners in terms of compliance. Propulsion technologies and fuels will dominate the global agenda in the years to come, but DNV GL estimates that the existing technologies will be able to achieve the goal set by IMO for a 50% reduction of GHG emissions by 2030. Beyond that though, all bets are off, since at the moment zero carbon shipping is feasible either through electricity (fully electric ships) or via the use of hydrogen.
However, all alternative fuel paths face challenges and barriers, from storage of certain alternative fuels to cost and safety. DNV GL estimates that by 2050, 39% of shipping energy will be supplied by carbon-neutral fuels, surpassing liquid fossil fuels. At the moment though, these fuels are unknown. As a result, a ship owner needs to ensure that they order a competitive ship, under various possible future scenarios. What's certain is that reduction of GHG emissions in shipping will lead to enhanced level of innovation.
Until then and in the more immediate term, digitalization is about to become a defining force towards improving fleet effectiveness. DNV GL says that it allows for improved coordination and synchronization between ship and port, through the use of AIS data, helping reducing emissions. It's a transformation in the way that the shipping industry operates, one that will not happen overnight.
Source: hellenicshippingnews.com